Sports Funding
Every school receives an annual sports premium from the government. The aim of this funding is to improve PE and sports programs offered by schools. The money allocated to each school is 'ring fenced', this means it cannot be spent on anything else. Schools must spend their funding on improving their PE provision. Ofsted report on how the school has spent its funding and the impact this has had on raising standards in sport. Schools are required to publish how their funding has been used along with details of the breadth of the sports curriculum offered by the school.
Our Key Stage Two Extra Curricular Provision is shown below:
Lunchtime Sports Coaching

After School Football Club

After School Netball Club

After School Cricket Club

After School Cheerleading Club

After School Boccia Club

After School Kurling Club

After School Athletics Club

Enrichment Sporting Days

Dance Workshops

Orienteering Workshops
WJS Sports premium action plan
WJS Sports Premium Funding and Action Plan 2021/2022
WJS Sports premium funding and action plan 2020/2021
WJS Sports premium funding and action plan 2019/2020
WJS Sports premium funding and action plan 2018/2019
PE Funding Plan for Academic Year 2021/2022
Total Premium £20,790
Total Spent - £20,750
PE Funding Plan for Academic Year 2019/2020
Total Premium £20,790
Total Spent - £20,750
PE Funding Plan for Academic Year 2018/2019
Total Premium - £20,726
Total Spent - £20,723
PE Funding Plan for Academic Year 2017/2018
Total Premium - £16,453
Total Spent - £16,453
Sports Competitions
We are so pleased that all the sporting competitions are back up and running again. Throughout the year, we have entered a number of different events and enjoyed taking part and playing against other schools. Each academic year we enter a variety of inter school sporting events and competitions, giving children in all year groups the opportunity to participate in both competitive and recreational sport.
Please keep checking out our website for information about the fabulous activities we take part in, and see photographs of the children enjoying Sport and PE.
Here are some of our recent achievements….
Dynamos cricket competition - we came 3rd out of 16 schools.
Multi-Skills Festival – taking part in a range of different activities on the day. This was more of a physical event where the children had lots of fun.
Cross Country – We took children from all year groups three to six. Children had to run just over 1 mile. We were successful in the year 4 boys' event where we had 2 boys finishing in the top 5 with one of them winning the race. In the year 5 event, we had a team of girls individually placed very high and ended up with the team trophy. Well done everyone 😊
Biathlon - This was a new event for us where we took children from all year groups to compete in a swimming race and a running race. The children all did very well and are looking forward to competing in the event for this year.
Mini Hockey – We took 4 teams – two from years three and four and two from years five and six. Both ages played really well and demonstrated excellent sportsmanship,
Tag Rugby – This was a valuable experience for our children and gave them a good opportunity to have a go at a new sport. It was an excellent physical event for the children; they enjoyed themselves and had fun.
Football – We have been to several football tournaments over the year, with many children representing our school in this sport. In every match we have played, the children have shown great responsibility and represented our school brilliantly. In most tournaments, we have reached the semi-finals, just missing out on the trophies up for grabs.
Athletics – We took a team of twenty children to participate in the local Ashford and district school athletics competition. The children took part in a number of different activities on the day, including: 800m race, mega howler throw, long jump, relay races and individual sprint races. The team accumulated points for where they placed on each event. They did phenomenally well and Willesborough ended up winning the large Schools trophy - a trophy we haven't won since 2005! A big congratulations to all the children that took part: what a fantastic team!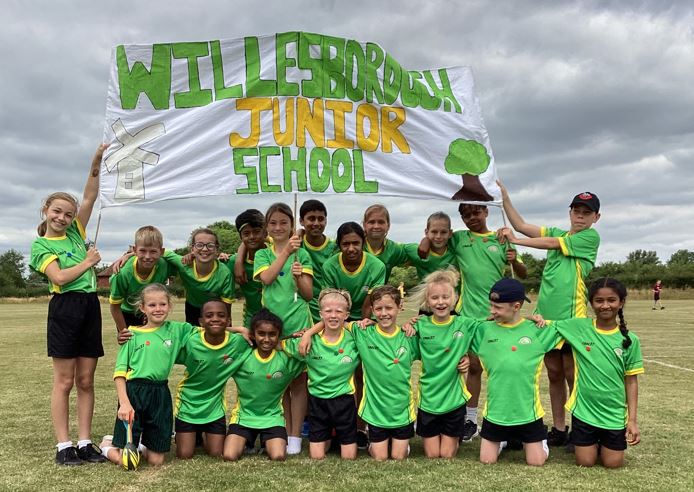 Key stage two sporting curriculum coverage