SEND (Special Educational Needs and disabilities)
Special Educational Needs and Disabilities
We meet the statutory requirements of the Revised Code of Practice which include Kent's 'Local Offer'. You can view the Local Authorities offer below.
www.kent.gov.uk/education-and-children
Our school policy includes;
The kinds of SEN provided for

Pathway for identifying pupils with SEN and assessing their needs

Arrangements for consulting parents and pupils and involving them in their education

Arrangements for assessing and reviewing progress towards outcomes

The approach to teaching pupils with SEN

How adaptations are made to the curriculum

The expertise and training of staff to support pupils with SEN +D, including how specialist expertise will be secured

Evaluating the effectiveness of provision

How pupils with SEN are enabled to engage in activities available to pupils who do not have SEN

Support for improving social and emotional development

How the school involves other bodies

Arrangements for handling complaints
Please click here to view the school SEN policy
This is a
resource regularly used by school but not usually available to parents, however, they have
fast tracked the launch of a new
Pa
rent Portal
which is now
live and will provide you with free speech and language advice, resources and activities.
Links between Infant and Junior Schools
Our experienced SEND leaders, Julie Greenwood, Willesborough Junior School and Tina Godden, Willesborough Infant School work together to ensure cohesive and progressive provision across the two school sites, from Reception to year six.
Transition from Year Two to Year Three
There is a strong transition programme in place for year two children, preparing them for their transfer to year three. This includes:
Additional visits for the children

Social stories and visual resource packages

Parent/teachers and SENDCO meetings

Team teaching sessions where the child's year two and year three practitioner work with the child together.
Our SENDCos, Tina Godden (Infants) and Julie Greenwood (Juniors) work together throughout the children's learning journey at The Willesborough Schools. They hold joint meetings with parents regarding individual needs, support and progress review. They have an established SEN Support Group.
Health and Special Access
Medical, health, social and special access reasons will be applied in accordance with the school's legal obligations, in particular those under the Equality Act 2010.
Priority will be given to those children whose mental or physical impairment means they have a demonstrable and significant need to attend a particular school. Equally, this priority will apply to children whose parents/guardians physical or mental health or social needs means they have a demonstrable and significant need to attend a particular school. Such claims will need to be supported by written evidence from a suitably qualified medical or other practitioner which can demonstrate a special connection between these needs and the particular school that parents feel is the only school that can accommodate their child's needs.
This must be sent to the Primary Admissions Team with the application form.
Provision Plans
Children with an Education Health Care Plan and those children in receipt of High Needs funding will have a Personal Provision Plan which specifies end of key stage outcomes.
SEN support children will also have SEN outcomes and SMART targets that directly link to the end of key stage outcomes. The continued support and interventions the particular child receives will be present on a class provision map and will be reviewed with the parents at least three times a year.
Medical Needs
If a child has a medical need, they will have a specific Care Plan which is completed in consultation with parent/carers. The plan is discussed with all staff who are involved with the child. All relevant staff receive regular epipen, asthma and diabetic training delivered by the school/nursing team. when necessary, and in agreement with parents/carers, medicines are administrated in school if a child has a specific or long term identified medical need, but only with signed parental consent and with medicines in the original packages.
Equality of Opportunity
There are equal opportunities for all pupils to participate in activites, events and educational visits. Risk assessments are carried out and procedures are put into place to enable all children to fully participate. However, if it is deemed that an intensive level of 1:1 support is required a parent or carer may be asked to accompany their child during a specific activity or visit.
Contact our SENDCO
If you would like further information or to speak to someone regarding Special educational needs and inclusion, you should contact Julie Greenwood via the school office.
A 'Parents Guide' to the new SEN code of Practice outlines what provision should be made by schools. www.gov.uk/government/publications/send-guide-for-parents-and-carers
Sen Support
Sen Flyer
Sen Newsletter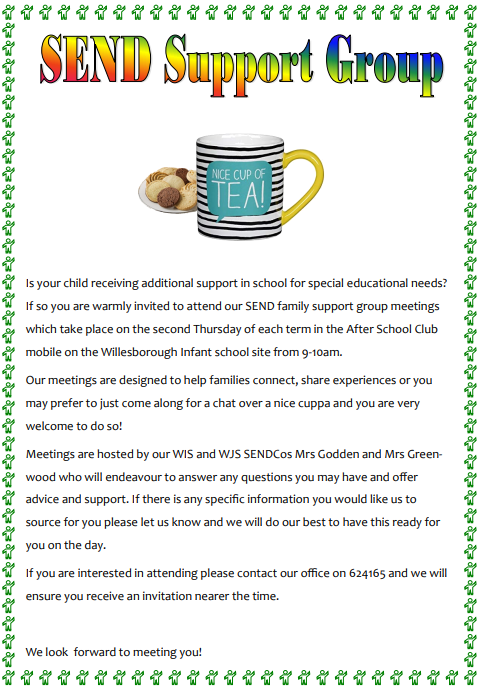 Please click the link below to view the parent version of mainstream core standards for SEN:
https://www.kelsi.org.uk/__data/assets/pdf_file/0005/117257/Special-educational-needs-mainstream-core-standards-guide-for-parents.pdf