Parental Involvement
We always welcome ideas and feedback from parents.
Over the past eighteen months, we have greatly appreciated the positive feedback parents have given to us in relation to the many changes and improvements made to the school.
Parents have written about and commented on:
The increased and now considerable number of opportunities they have to come in to school, for example: learning café's, learning workshops, Birthday get together, Guys R Us, wellbeing workshops, activity breakfasts and Walk in Wednesdays.

The increasing number of joint events.

The improvements made to buildings, learning environments and resources for the children.

The increased ratio of adults to children and especially smaller number of children in year six classes.

The wealth of incentives towards better outcomes available to the children.

The introduction and development of the school's pastoral support (or wellbeing and inclusion team).

The increased expectations and improved end of key stage outcomes.

Transition and increased focus on the continuation of the children's learning journey.

The upbeat teaching and teaching support team.
We hope that you like our new website too!
Please come in or get in touch at any time if you have an idea, a question or something you would like to discuss. Our Office staff will point you in the direction of the best person to speak to.
Fran, Executive Headteacher, Andrea and Flick, Assistant Headteachers and Emma, Parent Support Advisor and Matt, Behaviour Specialist, are available at the school gates at the start of the school day. Year three and year four class teachers enjoy daily face to face contact with parents too. Year five and six teachers are happy to be on hand when needed.
Please don't hesitate to ask a question or talk to us. We love to hear ideas. If you are a working parent we can always talk to you over the phone or arrange to meet you later in the day (at a time that will suit you, we don't finish at 3.15pm!)
If the matter you would like to discuss is concerning your child, it is always best to speak to your child's class teacher in the first instance. He or she knows your child best and is most equipped to help.
Parent Helpers
Coming in to school to help is not just beneficial to the children, it's fun and rewarding and it gives you a good insight into what goes on.
You may be able to come in every week or you may like to come in on an occasional or 'one off' basis to help with a special event. We hold a parent helpers meeting at the start of each year and a celebration tea party at the end. You can join the team at anytime. Felicity Rice or Andrea Beretta, our Assistant Headteachers, co-ordinate parent helper provision. Get in touch with them via the school office or catch them on the playground gates to find out more.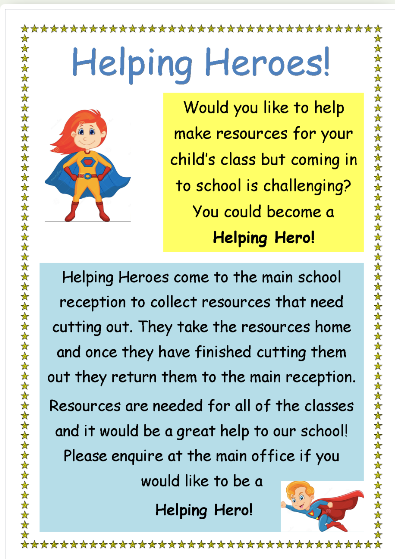 Guys R Us