Covid
Pupil Premium and Recovery Strategy 2021/22
We have put together some information that will help you understand the adaptations we have put in place in preparation for the return of all pupils during the Covid - 19 crisis.
The safety and wellbeing of children, staff, parents and carers is our utmost priority and we have a clear action plan, measured against risk assessments, in place. Things will be a bit different. We will be working tirelessly to make sure that your child's wellbeing and involvement remains high and their enjoyment of school and all it has to offer continues to grow.
We are determined to give The Willesborough children and families the enriching opportunities they deserve this term. Click on the links below to view our risk assessments for the events we are holding;
Reception Visits risk assessment
Year Six Performance risk assessment
Parent Teacher Meetings Risk Assessment
Click below to access the letters we have sent to prospective Year 3, Year Four, Year Five and Year Six parents regarding their children's return to school:
Year 3 Returning To School Letter
Year 4 Returning To School Letter
Year 5 Returning To School Letter
Year 6 Returning To School Letter
Year 5 and 6 Walking Home Alone Permission Slip
Coming into school
From September, you can access the site from both Highfield and Church Road to drop off and pick up your child/children. There will be members of staff on hand to support you in the morning and afternoon. We ask that you remain two meters apart at all times whilst on site.
A helpful slideshow to share with your child
Playtime
Our playtimes will be staggered. Not all the children will be on the playground at the same time. The children will access break times in their class 'bubbles' with their key adults. We have carefully considered activities that children can enjoy with their adult whilst ensuring social distancing. Below are some examples of these activities: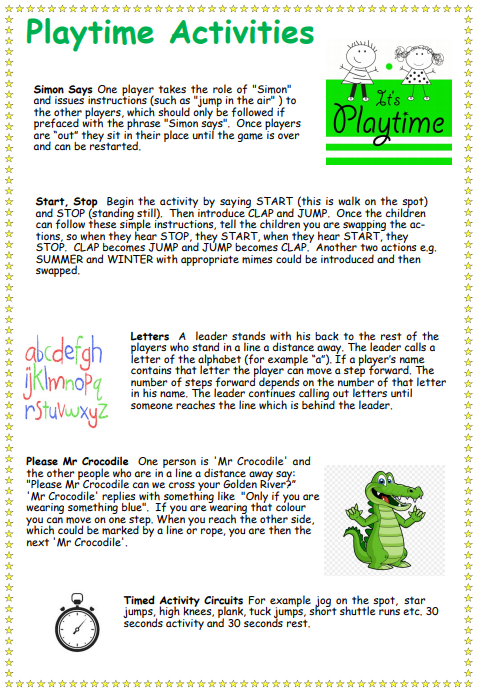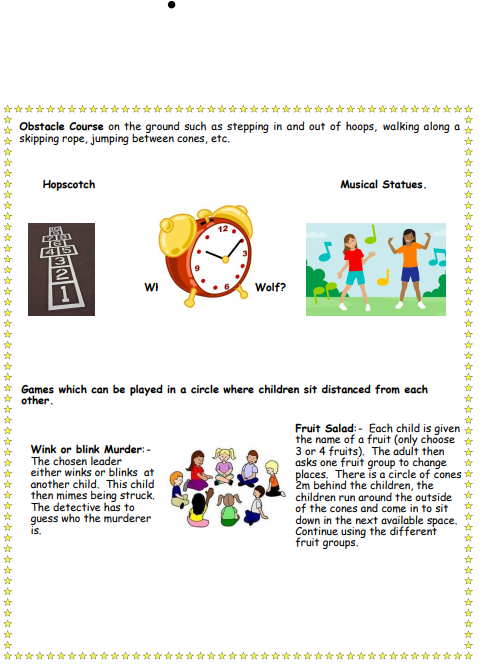 Classrooms
The classrooms will look a little different. Here are some photos:
We have staggered the start and finish times for the school day to support social distancing.
We will mark spots where you can wait safely for your teachers in the playground or in the designated waiting areas. These will be bright yellow sunshines marked on the ground. They will support the two metre distancing needed to safely drop off and pick up your child.
Travelling to and from school
Wherever possible, we ask that you walk to school.
Covid Risk Assessment