Coming back to school
We have put together some information that will help you to understand the adaptations to the provision we have put in place during the phased return for pupils during the Covid - 19 crisis.
The safety and wellbeing of children, staff, parents and carers is our utmost priority and we have a clear action plan, measured against risk assessments, in place.
Things will be different for a few weeks. We will be working tirelessly to make sure that your child's wellbeing and involvement remains high and their enjoyment of school and all it has to offer continues to grow.
Click below to access the letters we have sent to Reception, Year One, Year Six and Key Worker parents regarding their children's return to school;
We have created videos that explain how you can access the site from both highfield and church road to pick up your child. Please watch these videos to support your journey to and from school. We ask that only one parent brings an collects their child each day. We have created a map for you to view.There will be members of staff on hand to support you in the morning and afternoon. We ask that you remain two meters apart at all times whilst on site.
Coming into and leaving school from Highfield Road
Click here to view Highfield road video
Coming into and leaving school from Church road
Click here to view Church road video
Please click here to view the school map
Welcome back year 6
Welcome back Key Worker children
Year One
Here is a social for Reception and Year One children about how school will be when they return
Playtime
Our playtimes will be staggered. Not all the children will be on the playground at the same time. The children will access break times in their class groups of fifteen children and with their key adults. We have carefully considered activities that children can enjoy with their adult whilst ensuring social distancing. Click here to view examples of the activities;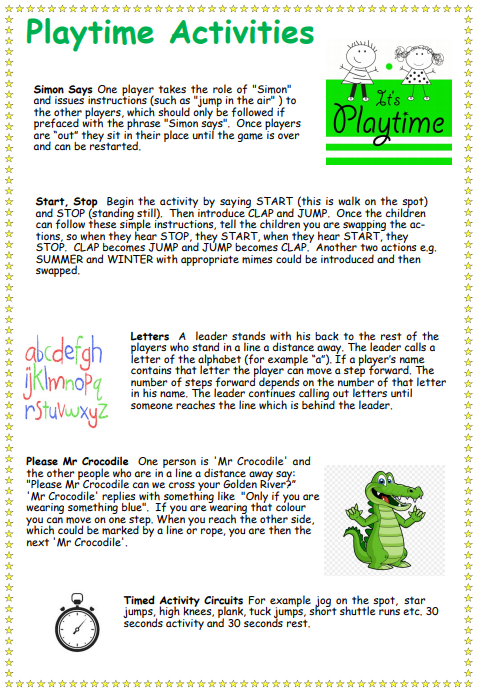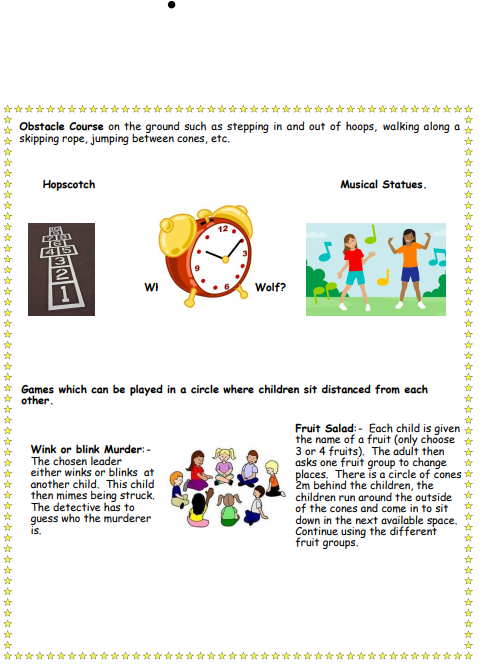 Classrooms
The classrooms will look a little different. Here are some photos:
Coming into school
Coming soon ….
After half term we will create a video to help you and your child to access the school site at 'pick up' and 'drop off' times.
We have staggered the start and finish times for the school day to support social distancing.
We will have one way systems in place across the wider school site that will be clearly signed with the words 'IN' and 'OUT' in yellow lettering on the ground. This is to support social distancing.
We will mark spots where you can wait safely for your teachers in the playground. These will be bright yellow sunshines marked on the ground. They will support the two metre distancing needed to safely drop off and pick up your child.
Don't worry if this still sounds a bit confusing. We will explain it all in more detail in our video tutorial.
Going home
Travelling to and from school
Wherever possible, we ask that you walk to school.