Our Friends and Neighbours
It is important that our children know and understand their own community and also the communities of those further afield. Below are some local and distant community groups and organisations we work closely with.
Although we are not a church school, we value the links we have with our local churches which include St. Mary's Willesborough, Christchurch Willesborough, The New Frontiers and Willesborough Baptist Church; we love it when Revered Watson, Sam or Mark come in to celebrate assembly with us
We work closely with Surestart and local Pre-schools
We work in close partnership with local Ashford schools
We link with local organisations and businesses to enhance children's learning such as the RSPCA, Ashford Designer Outlet, The William Harvey, our local Green Party Councillors, the Co-op, post office, fire service, ambulance service, police, Brabourne care home and many others
International Week
We had a fantastic time during International Week this year! We had such a busy week filled celebrating diversity and different cultures.
We especially enjoyed the Flamenco dancing and Mrs Pimple and Mrs Tewari's workshops on India. We were lucky enough to experience African drumming, Moroccan food tasting, Hakka dancing and singing songs from around the world – to name just a few! What a busy week we had!
Each class had their own country to learn about throughout the week and created amazing displays to share their learning at our International Fair. It was impressive to hear about just how much each class had learnt throughout the week!
A big thank you to all the parents/carers that provided workshops throughout the week and for those of you that supported our International Fair. We hope the children enjoyed showing you some of the exciting activities they had participated in throughout the week.
Year 3 Walliams class also celebrated the Hindu Holi Festival of Colour after learning about it in class.

Year 5 Children visit the Church
In December, Year 5 visited the local church, St Mary the Virgin, in Willesborough. Reverend John told us all about the church and the important Christian symbols. We had great fun exploring the church.
Thank you Reverend John for your engaging and informative talk – the children learnt lots to transfer to their RE learning in school.
Vinnie's Diner
In October, we celebrated the Harvest Festival. Amy Stanley from the Ashford Reformed Baptist Fellowship came to speak to us about Harvest celebrations and we thought about the people in our community who are less fortunate.
Thank you to all of the children and parents for their donations for Vinnie's Diner in Ashford.
We were very impressed with the amount of donations we received and the variety. Our Year 6 Project Managers boxed all the donations up and passed them on to Vinnie's Diner. Vinnie's Diner were grateful for the donations and look forward to passing them on to people in need in Ashford.
Romania
In August 2013, a group of very excited teachers and teaching assistants from some Ashford Schools went out to Romania as volunteers to work and help orphaned, sick and disabled children and young people. Mrs Rusbridge was one of the teachers that went! This mission was arranged through the charity 'Cry in the Dark'. There is a link below if you would like to find out more about the charity.
For the last three years, the children of Willesborough Junior School have made up shoe box gifts to send to the children in Romania they have been learning about. Miss Rice went out to Romania to deliver them in person last Christmas! She had lots of photos to share and news to tell us.
This year the children have blown us away with all their kind donations and our thirty shoeboxes were picked up on the 6th November by Steve Cooper, CEO of Cry in the Dark. We look forward to tracking their journey and seeing Mr Head deliver them in person. Here are some photos of our year six children loading the lorry...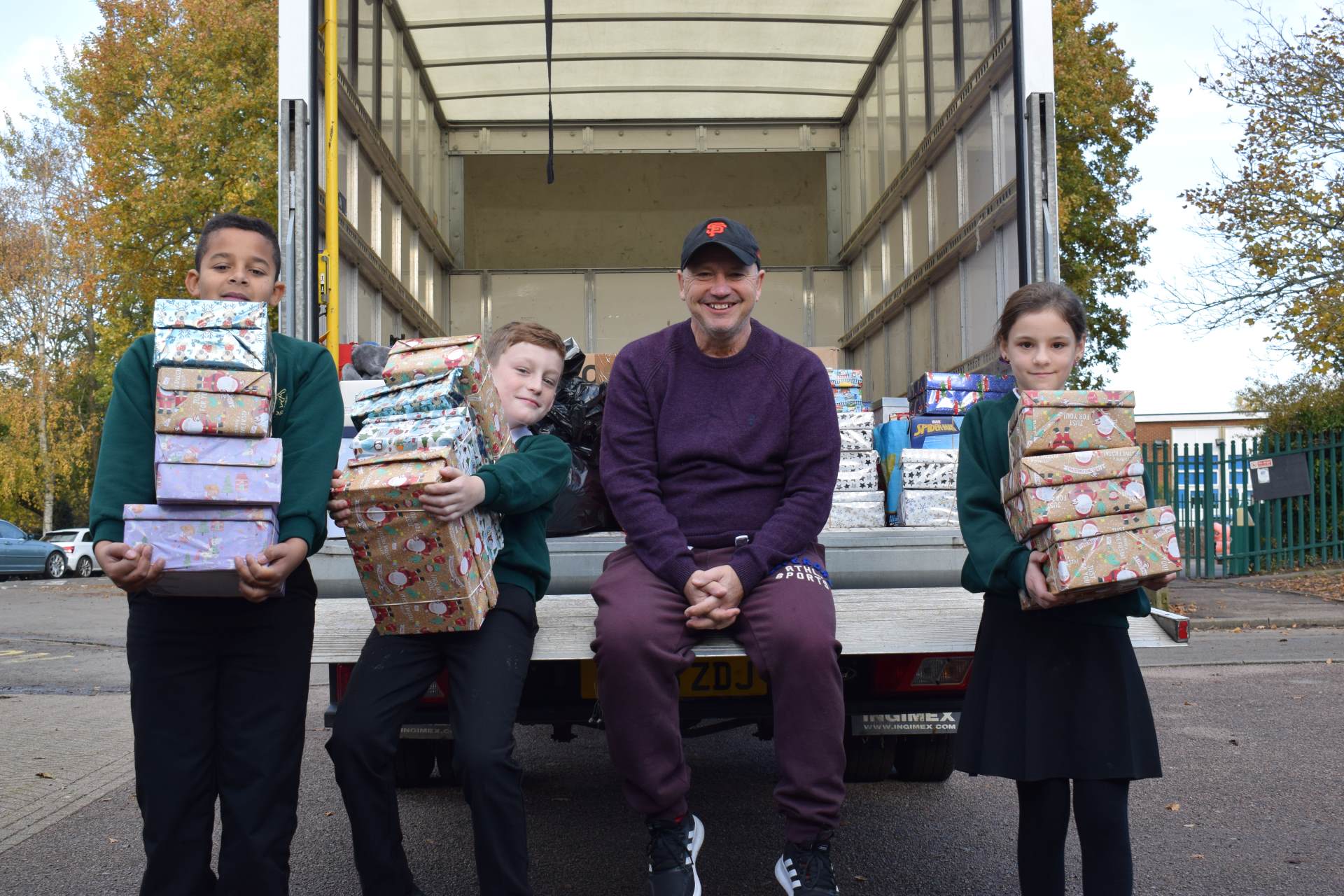 Thank you so much for your support in creating them – the shoeboxes were most definitely gratefully received Christmas 2018.
Care UK
A new purpose-built care home in Ashford is due to open in Autumn 2019.
All Year 4 children of Willesborough Junior School were invited by Care UK and their construction partners to get creative with a piece of artwork around the theme of 'Who do you care about?'
Year 4 pupils were thrilled to take part and be active members of their community. The pupils who designed the artwork were visited by the site manager who showed them the actual hoardings! Here are some of our children looking very proud of their masterpieces…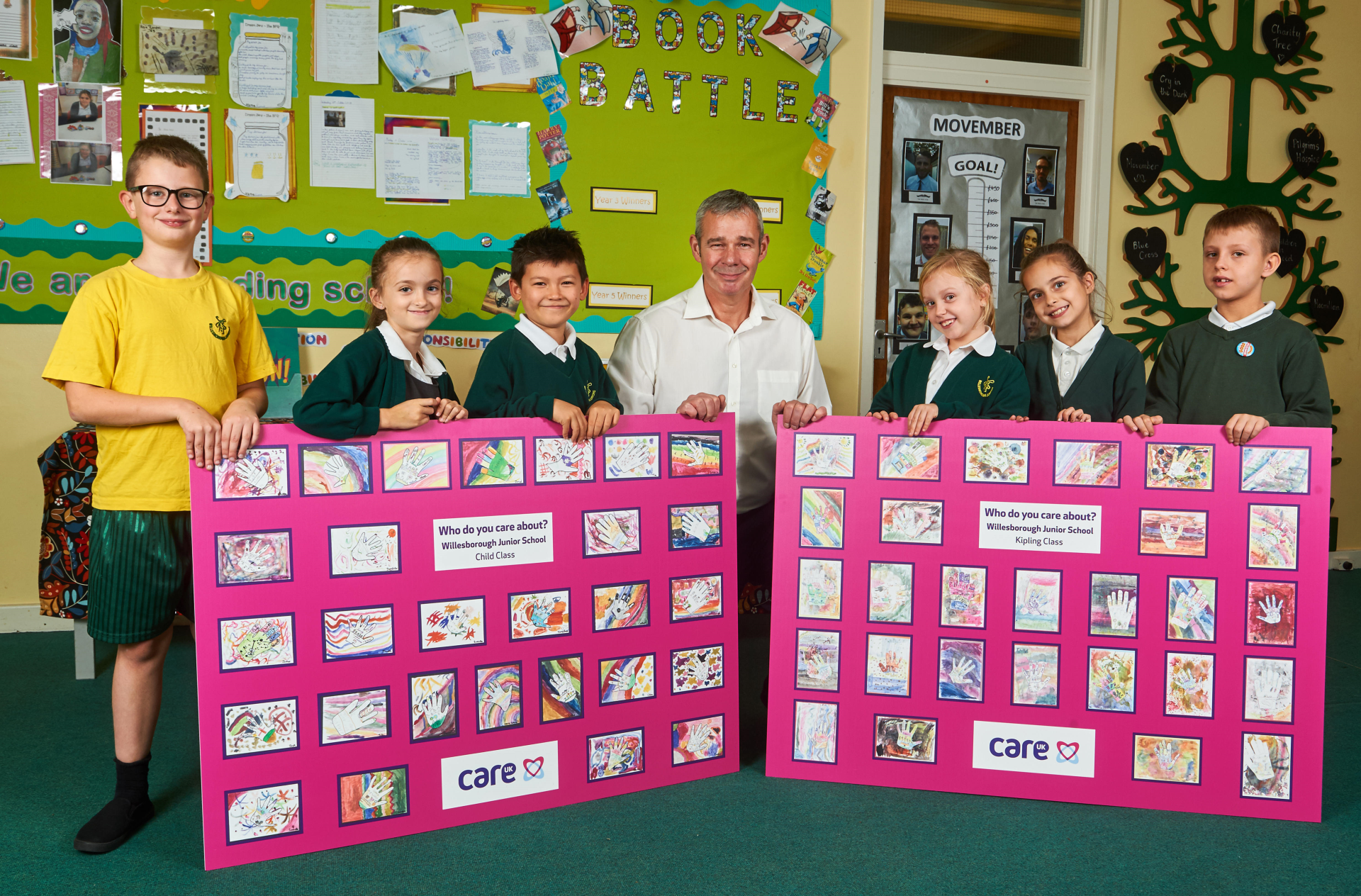 The artwork is set to be on display on the hoardings surrounding the development site of Care UK's new care home on Kennington Road.
We can't wait to see the children's work decorate the hoardings soon. Watch this space!