Our Favourite Charities
Learning about different charities and supporting the work they do stands true to the core values of our school:
* We have a responsibility to care for others and the world around us
* We show respect for the diversity of our world and the diverse needs of people and living things within it
* We have high aspirations and are determined to make a difference
* We lead through initiative and by example
Our Charity Tree sits in an area called 'The Hub' in our school. It helps to celebrate and promote our values.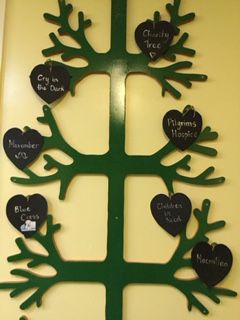 Cry in the Dark
Our children have enjoyed finding out about the work of Cry in the Dark, a Christian organisation who support sick, orphaned and vulnerable children and young people in Romania. The children have shown 'compassion in action' by putting together Christmas Shoe box gifts. Miss Rice, our Assistant Headteacher ,went out to Bacau to deliver the children's boxes in person.
Pilgrims Hospice
Our children proudly entered their Snow dog designs to promote the work of Pilgrims Hospice and raise money for the charity in the Ashford Borough Snow dog auction. Having travelled around Ashford with his friends, our Snow dog now sits in the entrance of our school.
The Blue Cross
Jean and her dog Ralph came to visit the children to talk about responsible pet ownership. This inspired the children to want to find out more about the work of the Blue Cross.
This is Dotty. On behalf of both Willesborough Infant and Junior schools, Mrs Rusbridge has sponsored Dotty as she hasn't had a very good start in life.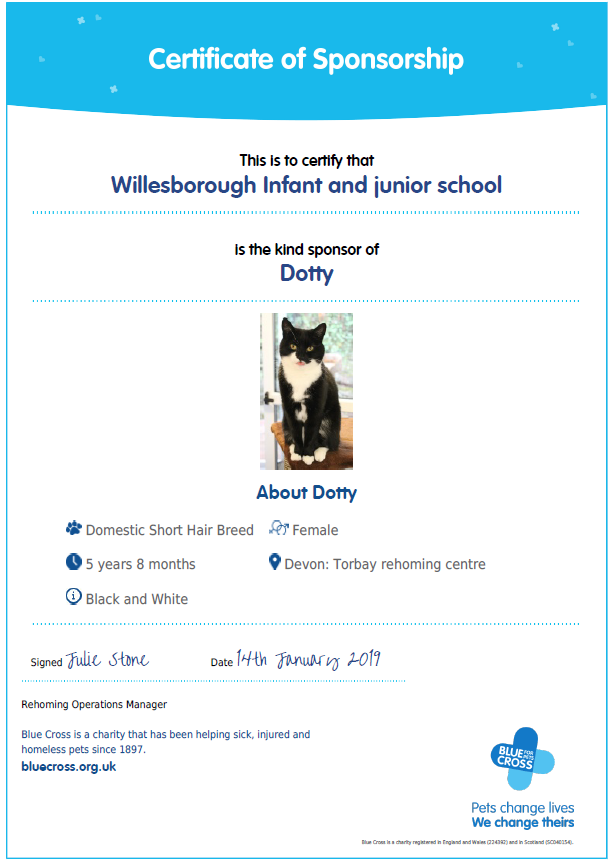 Movember
We have enjoyed watching our five male teachers grow moustaches to raise money for Movember. The children came up with a moustache style for each member of staff to grow.