Welcome to year 4
Let me start by introducing myself, my name is Mr Luckhurst and I am the team leader for Year 4 as well as being the class teacher for Hawking class. Our team this year is:
Mrs Cross and Mrs Scott who will be teaching Attenborough class, Mr Pryke who will be teaching Nightingale class, and we are pleased to welcome Miss Gore who will be joining us from Willesborough Infant School to teach Beckham class. We also have a very strong team of experienced TAs who will be supporting learning.
As you may have noticed our class names for this year are based on inspirational British people who have changed the world. To start our year we will be researching and finding out more about the inspirations for our classes.
Our topic for term 1 is 'Land of the Giants' and, whilst I don't want to give too much away, will give the children a real multisensory approach to their learning as well as providing an engaging text to inspire our writing.
PE, Games and Swimming
In Year 4 we will have PE on a Monday and Games on a Thursday. There will also be two classes swimming each term on a Thursday afternoon starting Thursday 13th September. Hawking and Attenborough classes will be swimming during September and October and Nightingale and Beckham classes will be swimming in November and December. For their swimming lessons the children will need a swimming costume (no two piece suits please) and a towel. They can also wear goggles if they want to. Please can you ensure that all items are named as sometimes the children forget what type of towel they have or we have several of very similar designs. Swimming will count as your child's Games lesson for the term that they are participating in it.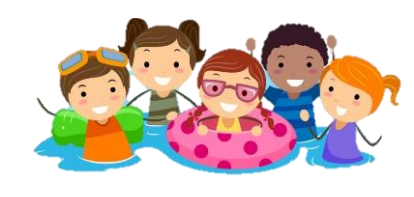 For PE children will need a school PE t-shirt, dark green shorts and a pair of plimsolls. For Games children need a school PE t-shirt, a green tracksuit and a pair of trainers. As we sometimes change the day that we run our PE lessons we ask that all kit be left at school in a named bag.
Wow
We would love to celebrate all the amazing things the children have been up to outside of school. So if you have a swimming or dance certificate or have competed in a race or have challenged yourself please send in a copy or a photo so we can all celebrate your child's achievement
Home learning, Times Table Rockstars and reading
English and Maths home learning will be sent home either every Thursday or at the start of a topic with a series of activities to choose from. Home learning is due back to school on the following Tuesday. If there are issues around home learning please speak to your child's class teacher or myself as we will be able to help.
Your child will get to choose a reading book early on in the term and we ask that they bring this to school with them every day. We also expect every child to read at least 4 times during the week, either aloud or independently, and to have their reading record signed to show this. Children can change their reading books between 8:30 and 8:50 in the morning or at lunchtime.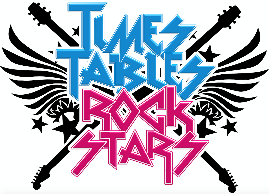 We will be carrying on using Times Table Rockstars to improve our multiplication skills and expect every child to access this for at least 20 minutes a week. This can be run on a computer, phone or tablet and if you have any issues setting it up please come and talk to us.
Help and support
If you have any concerns, queries or questions I would encourage you, in the first instance, to speak to your child's class teacher. The teachers will be available at the end of each day on the playground to discuss any issues that arise. I will also be available to discuss any issues arising from Year 4 in general or Mrs Beretta is the Head of Years 3 and 4. We also have Matt Buddle, our behaviour specialist, and Mrs Greenwood, our SENCo, to support children with additional needs. Please contact the school office if you would like to speak to either of them. I hope that you have found this useful. If you have any questions or would like more information please do not hesitate to contact me.
Year 4 Topic Map Term 1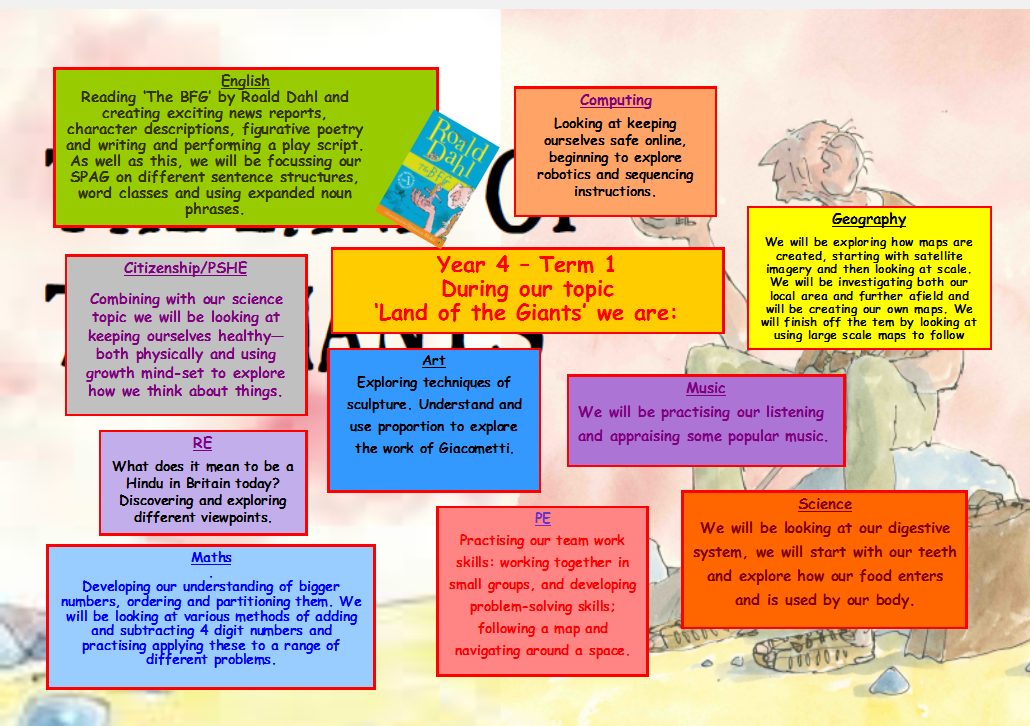 Year 4 Topic Map Term 2
Term 1 and 2
In term 1 we used the BFG as our inspiration for our topic and our writing. We thought about the types of things that the BFG would eat and spent an enjoyable English lesson following instructions to make them.
We also explored human food through our visit to Pizza Express in Ashford. The children had the chance to learn the history of the margarita pizza and then make their own. The finished articles didn't last long!
Term 2 has been all about monsters and heroes with our key text being Beowulf. We had an exciting archaeological dig at the start of the term where some fascinating Anglo-Saxon artefacts were discovered.
All the children really enjoyed their day of Anglo Saxon themed problem solving, having to travel across water, build strong structures, work together as a team and then keep themselves warm by lighting a fire.
Year 4 Topic Map Term 3
Term 3
We have had an exciting, and slightly revolting, term in Year 4. The children have loved our topic of Ancient Egypt and have been keen to share all of the gruesome details with us. Early on in January we prepared tomatoes for mummification. This involved cleaning them out, killing any bacteria and packing them in salt. We will be revisiting these in Term 4 to see the results of our experiment.
We have learnt about Ancient Egyptian gods, goddesses and beliefs and how these influenced the life and actions of people. We also followed the footsteps of Howard Carter and reported on the discovery of the tomb of Tutankhamun.
We were lucky enough to host two representatives of Microsoft who brought in Microbits for us to try. We created a 'rock paper scissors' game and then made a lie detector to test our friends.
To allow us to fully understand our science topic of changing state we ran an investigation day looking at the melting of ice and the evaporation of water. We fully explored the processes of melting, evaporation and condensation along with saving the galaxy by preventing the release of super villains!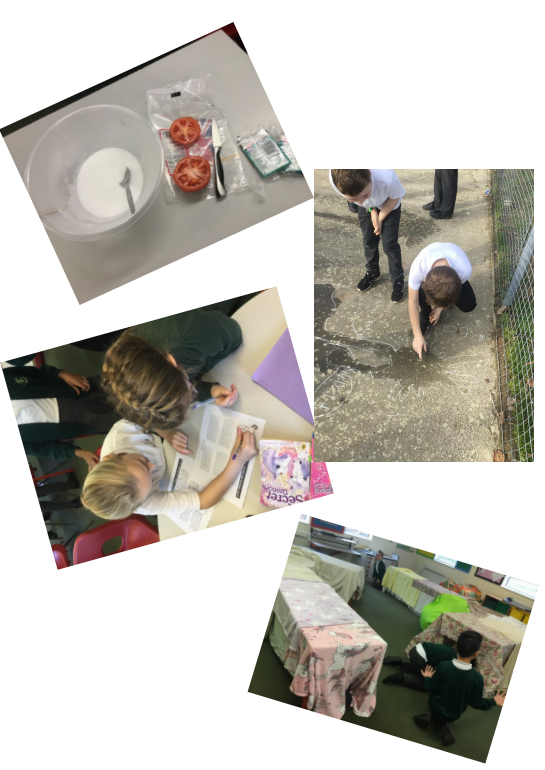 Year 4 Topic Map Term 4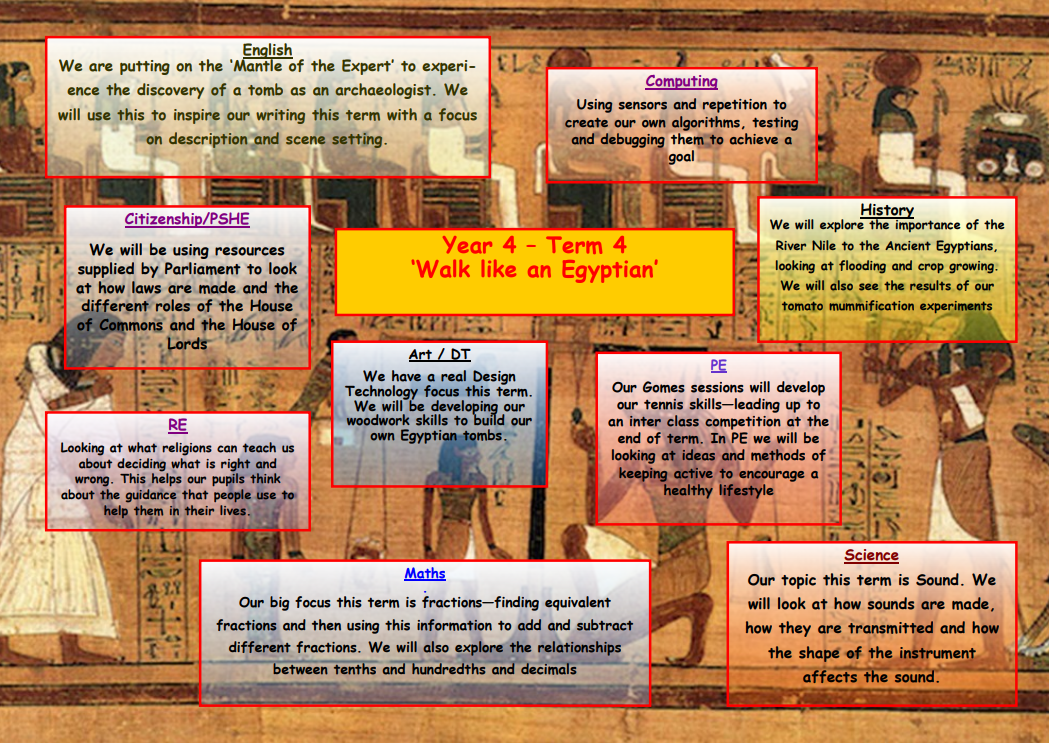 Year 4 Topic Map Term 5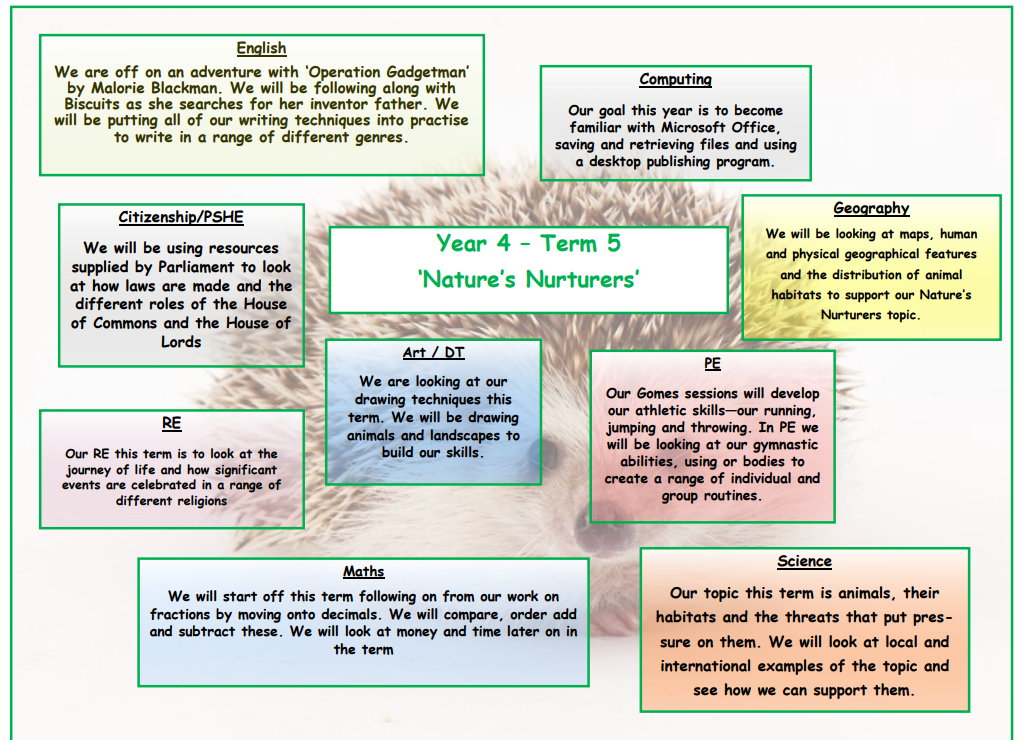 Year 4 Topic Map Term 6